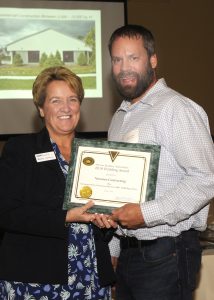 The Annual Building Awards program began in 1980 to encourage better design and construction in the Poconos. The event takes place annually in October and is sponsored by the Pocono Builders Association. Competition for awards is currently limited to membership within the Pocono Builders Association.
Awards of achievement are presented in various categories. The Award of Excellence is the highest honor presented through the program. The Award of Excellence is awarded to a Builder Member and an Associate Member.
Entries for the 2019 & 2020 Project are being accepted now! Deadline for entries is Wednesday September 15th 2021
All members of the Pocono Builders Association are invited to submit an entry and/or join us for dinner. Members can download the form by clicking on the link provided here: Pocono Builders Assn. Building Awards Form for Members Only
NEW - Monroe County Residents are encouraged to submit their DIY projects for a chance to win an Award.  The form can be downloaded by clicking on the link provided:  2021 Pocono Association DIY Entry
Judges are non-partisan professionals from out of the area who volunteer their time to help with this program. During this process, all entries are completely  anonymous for fairness.
Come back and visit our page soon for a list of 2021 Winners.
SAVE THE DATE: October 20, 2021
For more information on the Builder Awards, or for an entry form, contact Executive Director Joan Molloy at 570-421-9009 or email: pocbldrs@ptd.net.
GOLD SPONSORS: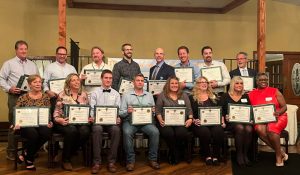 We would like to thank all of our sponsors for their support. Coming Soon!
TO VIEW ALL PHOTOS FROM THE AWARD BANQUET PLEASE VISIT: WWW.VIPSTUDIOS.COM