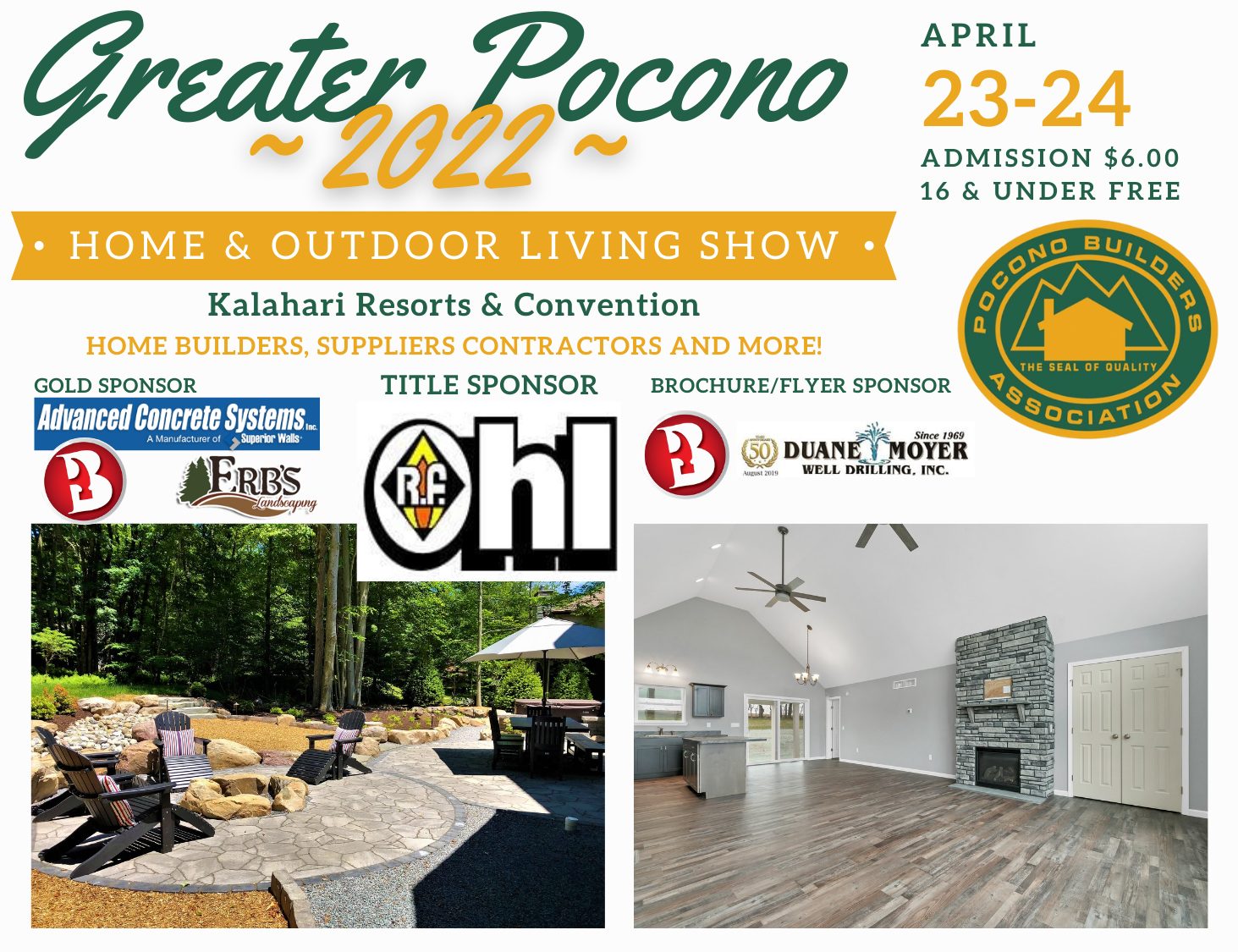 The Greater Pocono Home & Outdoor Living Show is the largest consumer home show in Northeastern Pennsylvania. It is the place to find all the products and services for your home, inside and out under one roof. The event is family friendly with scavenger hunts, prizes and our very own "Bob the Builder" for the kids. The home show is produced by the Pocono Builders Association.
Always a sold out event, over 125 exhibitors will fill the showroom with the newest and best products and services for the home. New and exciting ideas!  Inspiration!  Shop & Compare!  Talk to the experts face to face and start your projects now! The home show provides consumers with an excellent buying opportunity, competitive pricing and side-by-side comparison between companies.
Featured are landscape displays roofers, siders, sun rooms, flooring and lighting suppliers, windows and doors, heating and ventilation experts, builders, remodelers and tradesmen to name a few!  Bring your ideas, plans or blueprints and get expert advice on your projects. The Market Place at the show will feature cash and carry gift items, jewelry, artwork and more.
As in years past, the Pocono Builders Association invites a non-profit organization to participate in the home show as part of its community outreach efforts. The 2021 organization is Breast Friends, visit: www,breastfriendsofpa.org. Breast Friends is a support group that offers, strength, encouragement, and compassion to those faced with a diagnosis of Breast or Ovarian cancer. They are committed to helping women with breast and ovarian cancer and their families cope with the changes going on in their lives. The cancer patients are provided with Chemo kits which include: chap sticks, lotion, puzzle books, journals, coloring books, blankets, playing cards, books, anything that will keep them busy during chemo. We ask that you please consider bringing a donation.
Upon entering the home show visitors will receive the "Home and Outdoor Living Show" guide, compliments of Happenings Magazine.  The Red Cross, Monroe County Chapter, will be on hand to distribute consumer bags with emergency preparedness information.  Consumers can also pick up the 2021 edition of the Pocono Builders Association's membership directory and buyers guide.   This directory is a must-have compilation of qualified builders, remodelers, tradesmen, materials and building product suppliers.