Home Improvement Contractor Registration
What You Need To Know
When Ed Rendell was Governor of Pennsylvania he signed Senate Bill 100 creating a law that requires home improvement contractors to register with the State Attorney General's Office. This includes any contractors doing more than $5,000 in home improvement work annually. Those contractors receive a registration number that must be displayed and provided to potential customers.
Please visit these websites for additional information.
Pennsylvania Builders Association
The State Attorney Generals Bureau of Consumer Protection
717-787-9707
www.attorneygeneral.gov
For a list of available resources to help your business during the COVID 19 pandemic: CLICK HERE
Coronavirus & Job Safety: What you need to know CLICK HERE FOR FULL ARTICLE
OSHA Publishes Tips to Help Construction Employers Protect Workers During Coronavirus Pandemic CLICK HERE FOR FULL ARTICLE
Governor Wolf Announces Online Vehicle Sale Process, Construction Restart Date, PLCB Curbside Pick Up CLICK HERE FOR FULL ARTICLE
Wolf Administration Issues Guidance as Construction Industry Prepares to Resume Work May 1st CLICK HERE FOR FULL ARTICLE
Order of the Secretary of the PA Dept. of Health Directing Public Health Safety Measures for Businesses Permitted to Maintain In-Person Operations CLICK HERE FOR GUIDELINES
REVISED CONSTRUCTION GUIDELINES
Pennsylvania's Department of Labor and Industry has revised and updated its guidance governing how to count workers on residential projects. As PBA has lobbied from the beginning and as was preiously represented by the administration, exterior workers will not count against the four-workers-per job site limit. The important revised answer is in response to the question "Do worker limits apply to work being done on the exterior of the property?"
We understand that four workers inside is still less than ideal for some projects; but the ability to work with crews both outside and inside a structure should allow members more flexibility in both scheduling and complying with safety guidelines.
PA COVID-19 PPE & SUPPLIES BUSINESS-2-BUSINESS (B2B) INTERCANGE DIRECTORY: Company and product information provided in this directory were gathered in good faith as a means of connecting PA businesses and organizations that are seeking various PPE and other related items to combat the COVID-19 crisis. The information made available is from those entities who voluntarily contacted the commonwealth through the Manufacturing Call to Action Portal or the Pennsylvania Critical Medical Supplies Procurement Portal. The immediate goal of this B2B Interchange Directory is simple: to provide an opportunity for companies and other entities in need of PPE and other critical items to make B2B connection as they may choose with manufacturers and suppliers of COVID-19 related items. CLICK HERE FOR MORE INFORMATION
The HBA Rebates Member Rebate Program Portal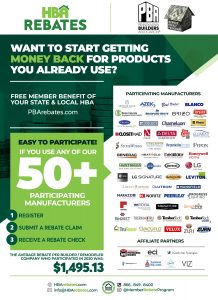 The HBA Rebates Member Rebate Program Portal is Live. The HBA Rebates Member Rebate Program Portal provides you with a one-stop-shop for the promotional materials, educational tools, and quarterly membership report. If you do not have a login, please notify Kim Klein so a login can be created for you.
The Member Rebate Program HBA Portal login page can be accessed by this link: