Check out the many benefits your membership with the Pocono Builders Association includes
Networking: Network with others in your industry at the Pocono Builders Association's monthly membership dinners. Membership Dinner are held the 2nd Wednesday of every month.
Membership directory, and web site: Complimentary copies of the Pocono Builders Association's membership directory are sent to consumers who call the Association looking for a contractor or service provider. The guide includes a classified section in the back which breaks down the membership by specialty (roofing, siding, etc). This information is also included on the Associations Web site www.poconobuilders.org and is updated monthly.
Three Memberships in One: Your membership with the Pocono Builders Association also includes membership to the Pennsylvania Builders Association (PBA) and the National Association of Home Builders (NAHB).
Government representation at all levels! Sensible government relations and reasonable legislation can work for the benefit of the building industry. Staying involved in the legislative process ensures that the voice of the building industry is heard at all levels – local, state and national.
Seminars: The Pocono Builders Association offers numerous educational seminars for a nominal fee. Recent programs have included OSHA Compliance, Green Building, Selling to Builders and Residential Fire Sprinklers.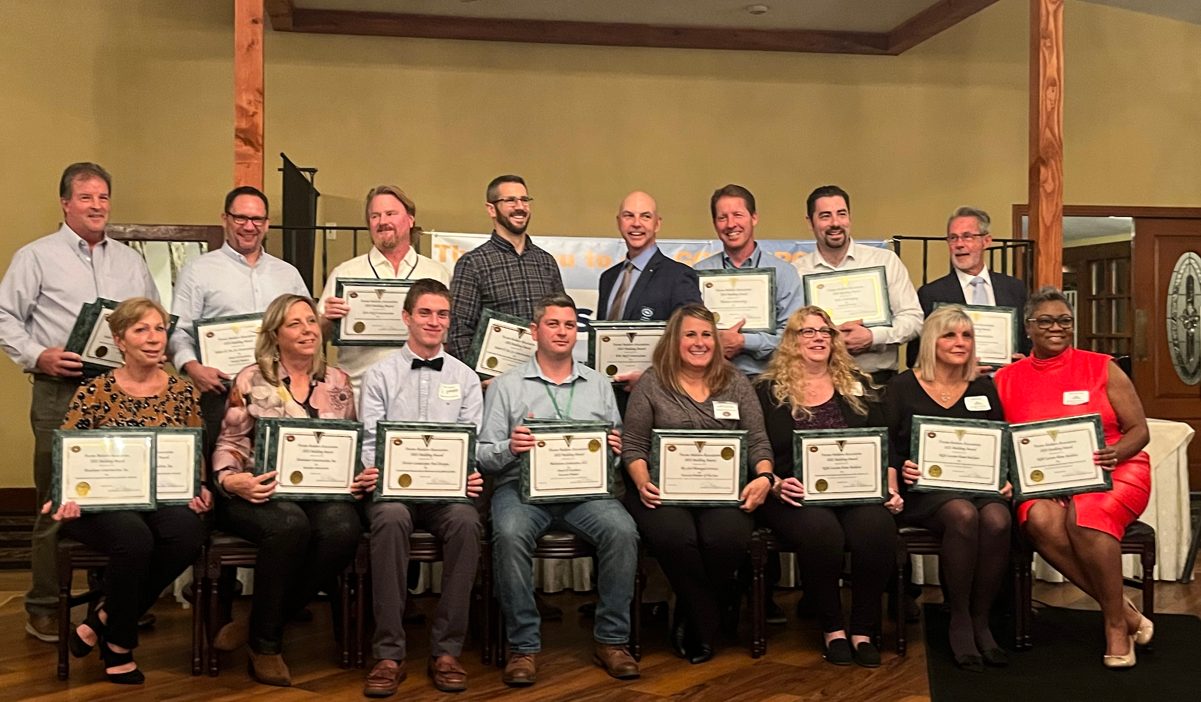 Awards Program: New members who joined The Pocono Builders Association are eligible to participate in the Association Building Awards Program that is presented in October every year.
Electronic Newsletter: Monthly publication that is emailed . This publication is a great way to keep current on industry news.
Annual Home Show: Members receive a reduced rate to participate in our Annual Home Show in the spring.
PBA Workers' Compensation Program is an alternative market program established by the Pennsylvania Builders Association in 1999 to help members leverage their group buying power to save on workers' compensation costs. The program is only available to association members and since inception has grown to nearly 600 accounts with almost $9 million in premium volume.
PBA Workers' Compensation Program participants don't:
Experience large surprise audits
Pay the same high work comp premium when business is slow
Burden operating cash flow with a large down payment of premium
PBA helps businesses compete with the parallel pay® program offered, allowing members to pay insurance premiums as they go, automatically through payroll service or manually as they pay employees.
Free PA One Call: As a member, you are entitled to Free PA One Call. Just fax your PA One Call invoice to 570-424-6764. $125 Savings a Year!
Pennsylvania Builders Association Member Rebate Program: When you participate in the Pennsylvania Builders Association Member Rebate Program, you can count on receiving checks every quarter! For more information, visit www.HBArebates.com
Health Insurance: Members can receive competitive health insurance rates. For ore information contact  JRG at 717-836-7403
Wyndham Hotel Group - 20% off the best available rate at over 6,500 hotels, resorts. Mention ID 20090 at time of reservation. 877.670.7088. Wyndham Hotel Group includes: Wyndham hotels & resorts, Wingate By Wyndham, Hawthorne Suites, Ramada, Days Inn, Super 8, Baymont Inn & Suites, Microtel Inns & Suites, Howard Johnson, Travelodge, and Knights Inn
UPS– members can save up to 36%. Visit http://savewithups.com/nahb/
Verizon Wireless—Member receive 22% off Monthly Access fees. For more information contact Scott Corrigan at 570-204-8515 or by email at scott.corrigan@verizonwireless.com
Lowe's - Visit www.LowesForPros.com/NAHB or call 877.435.2440 and register to save 2% on your Lowe's Accounts Receivable purchases. Plus, get free delivery on purchases of $500 or more.
FTD - 15% discount at www.ftd.com/nahb or call 800.SEND.FTD use code 17421. Includes FTD bridal, Vera Wang and Todd Oldham Collections